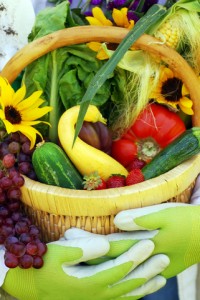 Nothing feels better to me than to be able to walk out to my garden and pick fresh veggies, fruit, herbs, and wild edibles for the days meals. I head out every morning with my basket and clippers with the first order being for my morning breakfast smoothie.
As foods ripen, my counter can get overwhelmed with berries, tomatoes, greens, peaches, cucumbers, peppers, eggplants, and more. I love cutting, slicing, freezing, dehydrating, canning, blending and creating new recipes from this bounty. I give away boxes of food to neighbors and friends and know that I am giving them a gift of super-healthy food.
My hubby helps me a lot with the weeding and planting of the edible garden. It is one of his favorite things to do and it leaves me with the really fun part of preparation and preserving.
With a small piece of land, or even pots on a patio, you can grow your own food and reap the bounty of gardening.
Article on Gardening
Article on Composting
 Rhonda