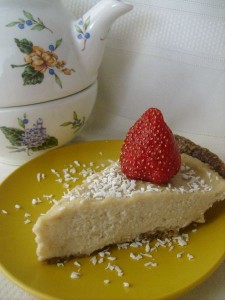 Desserts. This is what keeps us sane. Right?
Being a veg nut does not mean that you have to walk away from scrumptious, divine desserts. There are plenty of veg desserts that are healthy for you!
I am personally not a fan of the prepackaged varieties.  They are just too loaded with sugar and preservatives.  The best ones are the ones that you can make with ingredients that you know the names of and that you can pronounce.
My favorite dessert recipes are ones that I can add in several healthy ingredients that I know is superior to any store bought kind.  I prefer the taste and my body likes the added nutrition.   You feel better knowing that you are eating banana, berries, dates, pumpkin, sweet potato, nut milks, brown rice syrup, coconut, cacao, nuts, oats, quinoa and whole grains in your cookies, bars, pies or cakes.
Desserts can be good for you if you are willing to make a few changes.  If a recipe is loaded with butter, oils and sugars look to see if you can make substitutions and if not,  move on to a recipe that you can make a healthier version.  I have done this for years and so I know that desserts can be made with healthy ingredients that won't compromise the veg nut philosophy.   Toss those extra sugary, oily and buttery recipes and replace them with healthier options.  You will be making a healthy difference for you and your family!  And let's face it, if it has some sweet ingredient in the dessert, they will love it.
Check out some of these delish raw dessert recipes
Rhonda