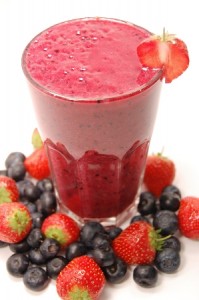 I adore smoothies. They are quick, nutritious and one of the best ways to start my day. What I love is my system that I use which takes me five minutes, start to finish. Here is my  Basic Favorite Smoothie Recipe:
1. I pre-wash my greens and allow them to drain in a colander.  Then I put them in a BPA gallon bag with a paper towel to absorb moisture and store them in the refrigerator bin.  I interchange my greens so I am supplying my body with different nutrients. I use spinach, kale or Swiss chard or collards as the primary green.  I also, when in season, pick wild edible greens such as purslane, dandelion, lambs quarter, amaranth, and mallow.
2. I fill a container with powders for the week. I start with Raw Meal sprouted protein powder, maca powder, chia seeds, amla powder, and hemp seeds.  Then I have a pre-mixed batch to take a scoop and toss in the blender each morning.
3. I have a bag of chopped dates and dried shredded coconut for sweeteners.
4. To my blender I add: a couple cups of water, 2 bananas, a handful of ice, handful of fresh or frozen berries, a scoop of my pre-mixed powder, a couple handfuls of pre-washed greens and blend until smooth in my Vitamix.
Additional Tips for Great Smoothies:
I Always use a banana to "cut" the taste of the greens
 Add an apple,  orange, pineapple or agave for more sweetness
Add in coconut yogurt or nut milk for more creaminess
1 Tbsp black molasses for the additional nutrition of iron, potassium and calcium
Add dried fruits such as gogi berries, gooseberries, rosehips or raisins
Add in other powders such as: acai, chaga mushroom, vitamin C
Herbs/spices you can add are ginger root, turmeric, cayenne, cinnamon, mint, or nutmeg
Once you have a system you can blend up a quick and nutritious smoothie that will rival anything you can purchase commercially. Have fun with it! For more smoothie recipes click here.
 Rhonda