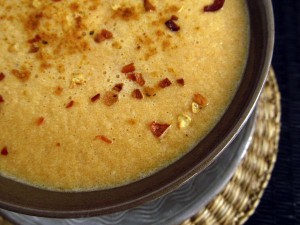 Ahhhh soups.  A favorite comfort food any time.
They can be a broth or creamy. Rich or light. Hot or cold. Sweet or Savory. Cooked or Raw. An appetizer or a main course.  They are nourishing and filling.
I love soups any time of year.  Soup fits the bill. They are so easy to make and allow them to simmer filling the house with a wonderful aroma, or whip up a cold soup in your Vitamix.
Start a soup with a variety of veggies such as carrots, celery, onions, potatoes, eggplant, mushrooms, tomatoes and turnips.  Toss in a pot and add water some vegetable broth or bouillon.  Add a couple of tablespoons of seasonings such as Herbavore, smoked paprika, curry, tumeric, oregano, thyme and rosemary.  Allow to cook on low until the vegetables soften.  Enjoy a bowlful of soup and the leftovers will make for another great meal for tomorrow.
Soup is an easy way to get in more veggies.   Add in some beans or noodles and you have a heartier meal.  Serve with a crusty loaf of bread and a satisfying meal is enjoyed by all.
Rhonda