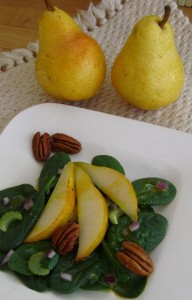 Salads are a great meal option.  They do not need to be the same old boring salad with a bottled salad dressing.   You can be limitless in creating new and delicious fresh salad options.
Try a new salad recipe each week and you will soon have some new favorites to go to.  The humble salad can be as gourmet or simple as you want.   Purchase some different ingredients each week in your produce department and try adding a new vegetable or herb to your greens. Make a point of finding a few toppings that you enjoy so that you can create your next favorite salad.   This is a great way to experiment with some new flavors and fresh foods you may not have tried before.
Recipes:
Creating satisfying salads can be quick and nutritious for you and your loved ones.  You don't have to spend hours in the kitchen trying to make healthy meals when the best ones come in a big bowl of crunchy salad ingredients.
Rhonda
Save
Save
Save
Save
Save