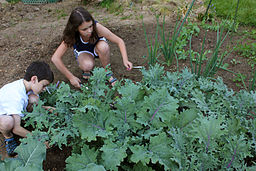 In January 2014 I had the opportunity to attend a lecture on Veganic Gardening.  Such an interesting topic that I wanted to share the information so I interviewed a couple in the know for my radio program, the Fresh Cafe.  Greg & Stephanie Litus worked at an animal sanctuary called the Animal Place in northern California and they had a veganic 3 acre farm.
While listening to Stephanie talk about gardening, I realized how much of a novice I am on this subject!  My spouse is the avid gardener in our household.  He spends 7 days a week out in that garden prepping, amending, planting, weeding, watering, etc.  I talked Robert about the talk on veganic gardening and he was quite interested in this topic since it was on garden soil.
Some of the interesting points that I learned about is how to amend the soil without using animal products such as manures, bloodmeal and fish emulsions that we thought we needed in our soils.  If you are interested in amending your soils you can use green and brown composting materials and plant coverings to help amend the soil. There are even some veganic fertilizer on the market.
I am excited about what I have been learning about veganic gardening as this method fits in well with my vegan lifestyle.  If you are interested in listening to my radio program with Stephanie, you can listen here Fresh Cafe on veganic gardening.
Greg and Stephanie's farm was living proof that the veganic method works as they grew a diverse garden of veggies.  Here are a few resources to learn more
Happy gardening in 2014!
Rhonda
Save