I am SO excited! After two years of a really big learning curve, I have published my book,
The Guide to Super Raw Foods.  This is a guide and recipe book  with delectable desserts, main entrees, snacks, salads, soups and more.   Created for anyone who would like to add more power-packed raw foods into your diet!
This book has taught me to be appreciative of my strengths and weaknesses as this has been a challenging adventure.  It feels so good to be able to share my favorites with those of you who are wanting delicious recipes as a go to anytime.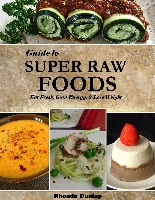 Take a peek by clicking on the book cover above-I hope that you like it!
Available in Kindle and E-book PDF
Rhonda