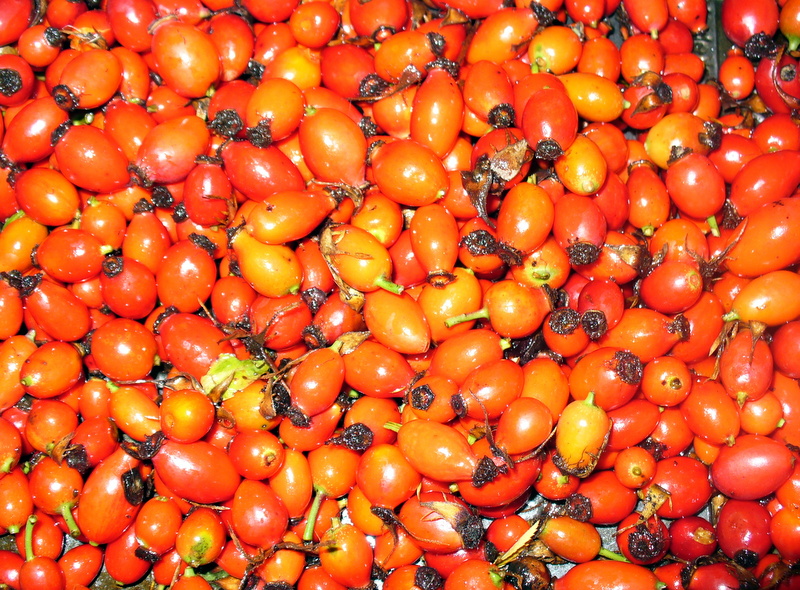 Rose hips are amazing little fruits loaded with vitamin C.  This is a wonderful resource to forage for to prepare for the winter season. They can be used in a tea, tincture or even smoothies.
Rose hips are the fruits on rose bushes that ripens in late fall into a cherry red color. You can find them anywhere you can find rose bushes. 
However, be aware that most rose lovers may treat their roses with pesticides  which not a great idea for harvesting and consumption.
Rose hips will only grow if the flower is left to die and drop off naturally. This makes them more difficult to find in your neighbors garden since most people deadhead their roses.  I would encourage you to keep your eye out for some untended roses that have not been pruned and sprayed to harvest some of these nutrient dense rose hip buds.
The good news is wild roses are abundant! Tucked away in small forested areas, to high in the mountains you can find these wild rose bushes. Wild rose hips are higher in vitamin C than domesticated varieties and they grow abundantly in areas that usually have not been sprayed.
The nutrition is in the skin of the rose hip, not the seeds. Dry your harvested rose hips by cutting in half, removing the seeds and dehydrating,  You can make tea (fresh or dried), cough syrup, tonic, syrup, wine, jelly, soup, or add them to your smoothies.
Rose hips have more vitamin C, iron, and calcium than oranges. They also have vitamins B and E, and other minerals.
If you have some land, planting a thicket or two can give you plenty of rose hips to nourish you and your family or friends for a winter season!
Take your foraging basket, a pair of kitchen shears, and head into the forested areas.  Having some natural rose hips in your apothocary cabinet makes good sense to give your immune system that boost it needs in the cold season.
Rhonda